The
Hoplites
were used as the primary units in the Greek's Military, they were well trained in the arts of combats. In Greek History the Hoplites were used to defend key territories which were being threatened by rival nations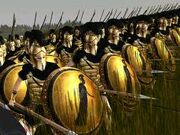 ; however the Hoplites were only civilian solders of Ancient Greece.

Some Hoplites were trained from childhood in combat and warfare; these were best known as the Spartan Hoplites.
Countering
Hoplites are best used for defence, so when attacking they become vulnerable to flanking attacks by a combination of cavarly and Infrantry.

use infrantry to lure them, then flank it with cavarly.
Using
Hoplites by themselves are very unflexible so it is best to have either a long line of them, or have supporting infrantry marching alongside them.
FEEL FREE TO ADD ON
See Also
Edit
Ad blocker interference detected!
Wikia is a free-to-use site that makes money from advertising. We have a modified experience for viewers using ad blockers

Wikia is not accessible if you've made further modifications. Remove the custom ad blocker rule(s) and the page will load as expected.